Josh Tongue will make his Ashes debut after replacing Moeen Ali with England naming an all-seam attack to face Australia in the second Test at Lord's, which gets under way on Wednesday.
Tongue claimed second-innings figures of 5-66 on his Test debut against Ireland at Lord's earlier this month.
Moeen struggled with a blister on his spinning finger during the first Test after coming out of Test cricket retirement following Jack Leach's stress fracture of the back, and was only able to bowl 14 overs in Australia's second innings at Edgbaston.
Tongue is preferred to fellow fast bowler Mark Wood, who has not featured in Test cricket since the third match of England's tour of Pakistan last December, while Chris Woakes and leg-spinner Rehan Ahmed also miss out.
Pat Cummins hit the winning four as he led Australia to a famous victory over England in the first Ashes Test at Edgbaston

England are seeking to draw level in the series having losing the first Test at Edgbaston by two wickets after a thrilling five days.
All-rounder Moeen appeared to allay any concerns over his fitness by taking a full part in Monday's net session, but captain Ben Stokes and head coach Brendon McCullum have chosen to go with four seamers at Lord's.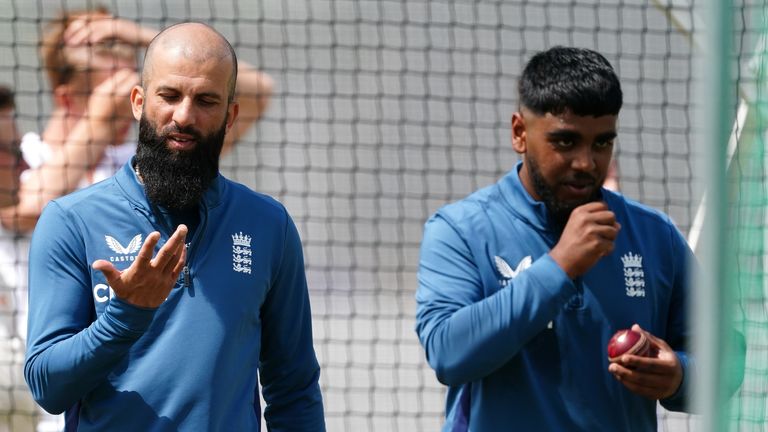 With Moeen dropping out of the XI in England's only change, Joe Root's off-breaks will be the main spin option at Stokes's disposal. Root bowled 22 overs during the first Test, claiming one wicket.
England could have picked teenage leg-spinner Ahmed, called up to the squad on Friday, had they wanted to go with another slow bowler.
England team for second Test: Ben Duckett, Zak Crawley, Ollie Pope, Joe Root, Harry Brook, Ben Stokes, Jonny Bairstow, Stuart Broad, Ollie Robinson, Josh Tongue, James Anderson
Stokes: We wanted to play Wood, Tongue is a like-for-like replacement
England captain Ben Stokes explains the decision to select Josh Tongue for the second Ashes Test and also discusses his knee, Ollie Robinson and the approach at Lord's

Speaking later on Tuesday morning, captain Stokes said England had initially wanted to select Wood but, with the fast bowler still returning to fitness after an elbow injury, they opted for Tongue in the hope Wood can play a full part in the final three Tests of the series.
Stokes said: "We needed to get to Lord's first and see what conditions we were faced with. We wanted to play Mark Wood… we felt that he could definitely start the game, but with conversations we felt the extra week with build-up and getting his loads up would give him a better chance and an opportunity to play a full part from Leeds (the third Test) onwards.
"We brought Josh Tongue into the team as a like-for-like [for] Woody, so I'm looking forward to seeing him continue on the great start he had against Ireland here.
"The only thing that's different is that it's a bigger occasion for him. He's had his first Test match, he's had his debut game which he's had huge success from – so I think coming in and being able to use him as a fourth seamer role is something that I'm very looking forward to him being able to do. I think he's really looking forward to the challenge as well.
"We turned up here and saw there was quite a bit of grass on the wicket, a bit of green. Traditionally Lord's has offered more for the seamers and with how Mo's finger was last week – it's actually recovered really well – we thought we would get more out of our fourth bowler being Josh Tongue this week."
Stokes also hopes to play more of a role with the ball himself at Lord's as he continues to manage a knee injury.
"I've recovered really well," he said.
"Last week was a huge confidence boost for me. In all the build-up it was in a controlled environment around training without having to stand in the field or back days up. Being able to bowl that longer spell on the last day was another confidence boost for me.
"At the moment things are looking good and hopefully I can play even more of a part with the ball this game."
Stokes: I won't rein in Robinson | 'England won't change approach'
Michael Atherton and the Ashes panel discuss Ollie Robinson's exchange with Australia's Usman Khawaja and whether his sledging was needed

Stokes also said he has no plans to get Ollie Robinson to cool his aggression in the series. The seamer has been criticised by a number of former Australian players for the way he celebrated dismissing centurion Usman Khawaja in the first innings at Edgbaston.
"What's Ashes cricket without a little bit of comments from past players," Stokes said.
"It's not the only time where emotions of professional sport have come out in that form. I think Ollie Robinson is the [fifth] best bowler in the world, he's averaging 21 with the ball, that's all I think I really need to say about it all.
"Ollie Robinson doesn't let stuff like that affect him. He's been a quality performer every time he's walked on to the field for England and his performances have proven that.
Not for the first time in the opening Test of the Ashes this summer, Ollie Robinson and Usman Khawaja had a heated exchange in the middle as the action grew more intense at Edgabston

"I definitely won't be having a word with him, telling him to rein himself in because you don't want to take something away from a player that gets the best out of him. He loves the competition and it's professional sport, emotions are high, it's an Ashes series – there was a moment where we really needed a desperate breakthrough and he was the man to get that."
Stokes's captaincy and decisions in the first Test were criticised in some quarters in the wake of England's narrow defeat at Edgbaston.
The all-rounder had declared England's first innings on 393-8 late on day one with Root and Robinson well set to add further runs which may have ensured Brendon McCullum's side would not be trailing in the series.
But Stokes says England's aggressive approach is not going to change, adding: "I've said it for a long time now, we've found a way of cricket which brings the best out of us as a team.
"We're not always going to be on the right side of results and that goes the same for every team, regardless of the way they play.
"We found huge success in our mentality and the way we go out and take the game on, so things won't change."
Cummins: We're lucky to have Lyon | 'We expected England to pick four quicks'
Australia off-spinner Nathan Lyon is set to play his 100th consecutive Test match, and captain Pat Cummins said on the eve of the game: "I think it's a testament not only to how good Nathan is – in terms of longevity, fitness and form – but to be able to play 100 Tests means you're getting picked in all conditions.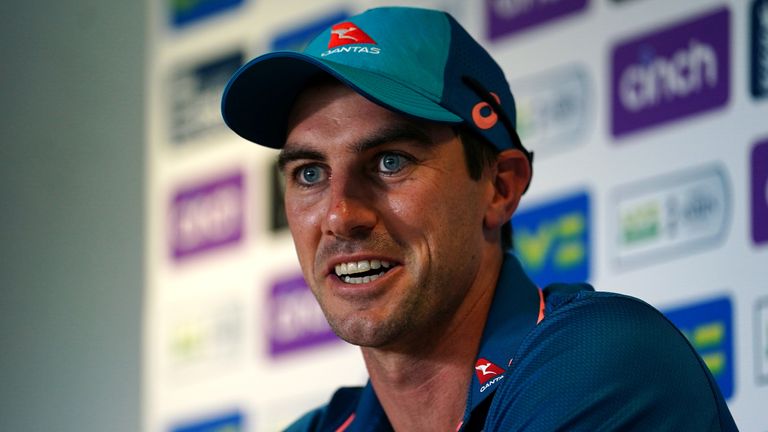 "I know at the start of his career, there was talk about four quicks at the Gabba, but he's just so valuable to our team that I couldn't imagine a side without Nathan in there.
"I've seen they've gone with four quicks, which is probably as we expected, after seeing Moeen's injury last week. But I feel really lucky we've got Nathan.
"This [Lord's] is a really special place in cricket, and for Australia we've had some success here in recent years. Could be one for the memory bank."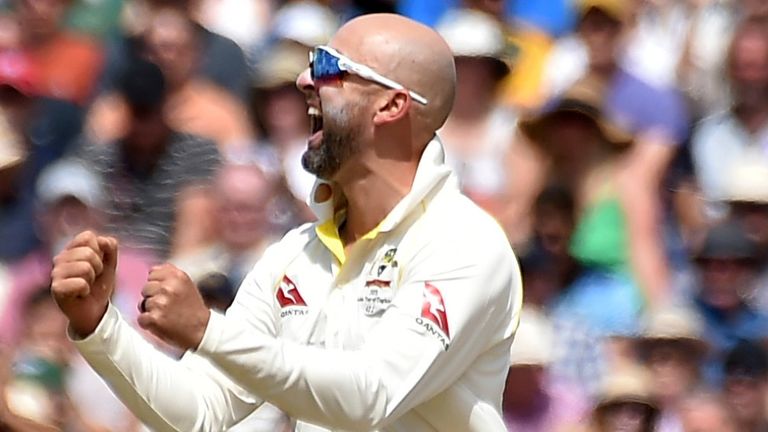 Cummins has no concerns over the fitness of seamer Josh Hazlewood, who played at Edgbaston after a lay-off.
"It was something we were conscious of last week," he said, "but I think he only bowled 25 overs, and even having a day between the first and second innings is always nice for a bowler.
"And we've had six or seven days leading into this, so there's no injury concerns there. The gap between Lord's and Leeds is a bit tighter, so I think that might be more of a conversation next week."
Asked what he knows about England newcomer Tongue, he said: "Not a heap. He obviously played against Ireland here a few weeks ago, so I might have a look at the footage tonight.
"I know a lot of our batters have done their homework on all their guys, so I don't think there'll be too many surprises."
'Tongue selection a surprise and interesting call'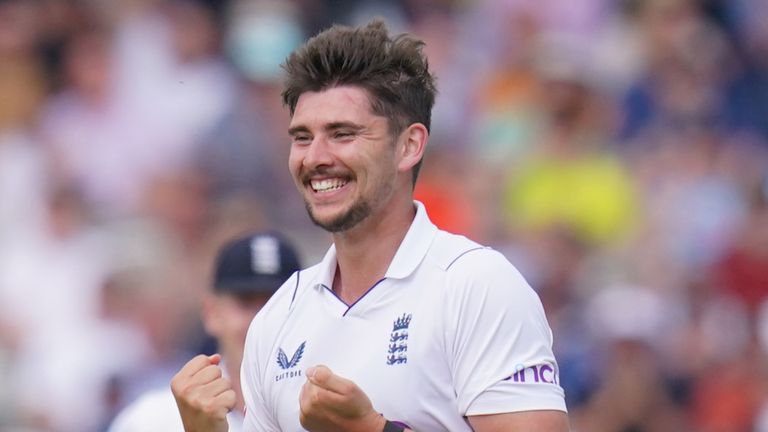 Analysis from Sky Sports News' James Cole…
"The inclusion of Josh Tongue in the England lineup for the second Test against Australia is a surprise. We thought Mark Wood was the most likely to come back in with his express pace to offer a point of difference to the attack.
"But Josh Tongue took five wickets on debut at Lord's against Ireland. That was a surprise call-up as well in that warm-up Test against Ireland, we didn't think he would play, we thought he was just included in the squad as back-up.
"It has been quite a rise for Tongue. He caught the eye of England's selectors last winter on a tour of Sri Lanka with the England Lions, he took eight wickets in Galle then, he then started the Championship season well and he got Steve Smith out and Pujara in the same game against Sussex and that got him a call-up as injury cover and then made that debut against Ireland.
Sky Sports' James Cole feels it's an 'interesting call' that Josh Tongue will replace Moeen Ali with England naming an all-seam attack to face Australia in the second Test at Lord's.

"It's an interesting call, England going with four seamers. I wonder if Ben Stokes's knee is partly to do with that. The conditions out in the middle, it's a green top and it looks good for seamers, we've also got some clouds around on day one and some rain potentially on day two and on Saturday (day four).

The Ashes – Live



Wednesday 28th June 10:00am

"Tongue also bowled fast against Ireland, he was clocked at 91mph in that Test match and he gets extra bounce and now he will have another chance to stake his claim to start a brilliant Test career."
Watch the second men's Ashes Test, from Lord's, live on Sky Sports Cricket from Wednesday. Build-up begins at 10am ahead of the toss at 10.30am and then an 11am start.
#Ashes #Josh #Tongue #replaces #Moeen #Ali #England #allseam #attack #Test #Australia #Lords #Cricket #News